Love it. Hate it. Avoid it. No matter how you feel, you've gotta make an appearance at an office Christmas party. It's basically a toned-down adult prom. There's usually a committee involved (and not even the fun kind a la Angela, Phyllis, and Pam), and if you're particularly unlucky, a theme. This year the office Christmas party stress started kicking up sometime around October. My sister texted me lamenting the dress code specified on her company's invitation: "It has to be cocktail, but cocktail I can wear to work and just switch shoes or something."
I, too, got my own invitation a couple of weeks later. Mine was less specific, and just asked me to block off the day for a holiday celebration. Excuse me, what? How's a girl supposed to go shopping if she's not even sure where she's going? Or what she's eating? Or what she's drinking? And then another invitation graced my inbox – a luncheon. Faced with the three classic office party attire demands (day to night, anything goes, and daytime glam), it was time to play a little dress up. Happy holidays!
Day to Night
Why I'd wear it year-round: A tux blazer instantly elevates an outfit. Throw it on when you head to the party and it's like you've changed entirely. Paired with a pair of leather pants the other 11 months of the year, and you've got the most fashionable look in the building.
SAINT LAURENT Square Cut Tux Jacket $3,450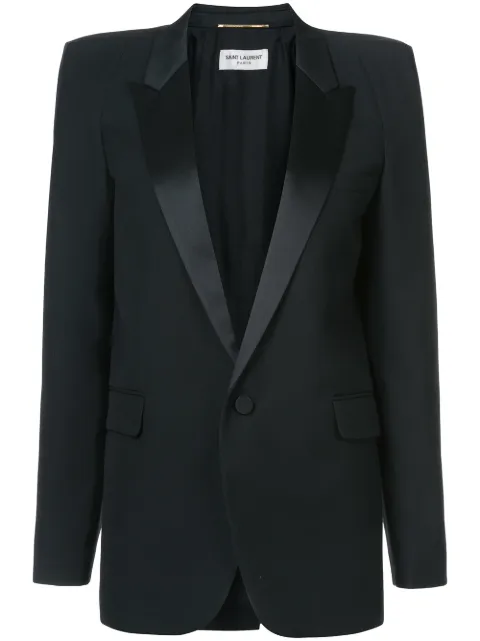 Roland Mouret Algar Hammered Blouse $1,165
ATTICO Stars Pumps $722
ALEXANDER MCQUEEN Embellished Leather Clutch $1,494
Anything Goes
Why I'd wear it year-round: Who can't use a good daytime dress? Weekend brunches, that family party you definitely didn't forget about, casual dates. So many occasions, so little time.
VICTORIA VICTORIA BECKHAM Satin-trimmed dress $780
AQUAZZURA Rendez Vous 105 Suede Mule Sandals $725
Salvatore Ferragamo Thalia Small Shoulder Bag  $1,250
Daytime Glam
Why I'd wear it year-round: Luncheons are a staple of my business, and there's nothing worse than wearing the exact same dress 5 times in a row. When it's timeless, no one notices. Plus, when you glam up in the morning, you can relax at night.
GIVENCHY Bow Pearl Embellished Dress $2,238
L.K. Bennett Monica Mary Jane Pumps $295
FENDI Kan I Logo Velvet Crossbody Bag $1,190